On-Site Paintball Rentals
Xtreme Outdoor does not own/maintain any paintball fields. There are many free paintball fields in the are and many great private fields as well. On-Site paintball rentals gives you a professional paintball field wherever you want it. You get the rental gear delivered to a location that you specify. It's paintball without the hassle. All you do is show up ready to play. There's no setup or cleanup, just play.
You'll have an attendant there to take care of the equipment, explain the game, make scenario suggestions, referee your games, and provide onsite speed testing of all guns in play. Having an attendant, it's unlikely you'll have any CO2 or paintball shortage allowing you to play to your heart's content.
There is a minimum group size of 10 people for any on-site reservation and reservations must be made 2 weeks in advance. Requests will be answered according to availability. Only Xtreme Outdoor paintballs are permitted. Additional players with their own gear can get CO2 at the usual fill prices.
3 Easy Steps
Play paintball!
---
On-Site Cost Calculator (Estimate Only)
| | |
| --- | --- |
| Discount | |
| No. of Players | |
| Paintballs per Person | |
| Total Paintballs | |
| Game Time | to |
| Drive Time (1way) | |
| Setup Time | 1:00 |
| Cleanup Time | 0:30 |
| Departure Time | |
| Return Time | |
Product/Service
Price
QTY
Subtotal
Unit Cost
Expense
Rental Package
12.00
2
Paintball Cases (2000 Rounds)
40.00
32
Paintball Cases (500 Rounds)
11.00
7.5
8
Hours
30.00
10
SubTotal
Expense
Discount
Grand Total
Profit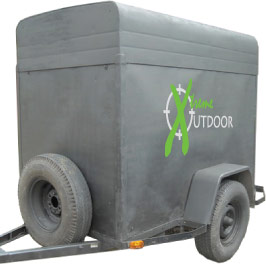 More Information