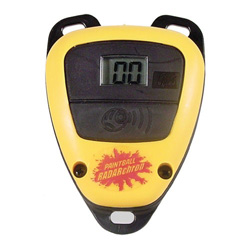 Chronograph
Have buddies coming with their own guns? Rent the RadarChron and make sure they're shooting a reasonable speed before getting on the wrong end of their barrel.
Small microwave Doppler radar sensor for measuring paintball speed
Built in microprocessor calculates foot-per-second speed on LCD display
Captures speeds between 150 and 450 feet per second (2 percent accuracy)
Rugged plastic housing seals internal electronics from dust, dirt, and moisture
Measures 2.5 x 1.19 x 3.5 inches (W x H x D), weighs less than 3 ounces
Safety is of paramount importance in the sport of paintball, and keeping markers shooting paintballs at a safe speed is an essential part of paintball safety. All fields and tournaments have limits on maximum paintball speed, and these guidelines need to be followed by recreation players playing in unsupervised areas. Tournaments and fields have check-in stations where markers are chronographed for paintball speed before play. However, markers can "get out of tune" during play and exceed paintball speed limits.
Keep your paintball marker operating safely with the Paintball Radarchron from Sports Sensors. The Paintball Radarchron is a small, inexpensive microwave Doppler radar sensor that measures the speed of a paintball as it's shot from a marker, helping you assess whether your marker meets prescribed safety limits. Users have their choice of holding the device in their hand close to the marker barrel, or they can attach the Radarchron to the barrel with a simple loop strap. Once in place, the device measures paintball speeds within a range of 150 to 450 feet per second, at +/- 2 percent of accuracy.
Hold the Radarchron close to the marker barrel to measure paintball speed. The Radarchron has proven so successful that many tournaments have written its use into their official rules, as its innovative design allows game officials to conveniently measure speeds before, after, and during competition. The Radarchron is microprocessor controlled--like a mini-computer--and indicates calculated foot-per-second paintball speed on a two-segment liquid crystal display. In addition, the Radarchron is tough enough to withstand serious punishment, with a rugged plastic housing that's sealed to protect the internal electronics from dust, dirt, and moisture encountered during normal use. Perhaps best of all, the Radarchron is simple, safe, and effective. The unit, which offers one-button operation, boasts a transmission level that's well below that of most wireless consumer products, such as cell and portable phones, for example. Transmission characteristics are also well within FCC, CA, and CE requirements and prescribed safety levels.