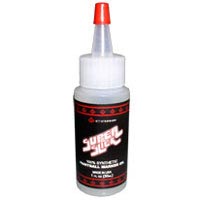 Paintball Gun Oil
Oil your o-rings and keep your gun working smoothly.
Gun oil has protected paintball markers for 10 years and is recommended by several marker manufacturers.
This lubricant has undergone extensive field testing, i.e., actually leaving paintball markers in the snow overnight and then test firing them the next morning.
Protect your gun from friction and liquid Co2. Co2 based guns jump drastically in temperature resulting in very cold gun temperatures and broken seals. Take the proactive step and oil your gun before each game.